This post contains affiliate links.
Hello my awesome Readers! I mentioned before that we have brought our sweet nephew back into our home, and with that brought the challenge of organization.
It seems like it was so much easier when they were younger, because now I feel at a loss.
He is currently sharing our daughters room for the time being, and her closet was nowhere even close to ready to have a second patron invade the space.
One Saturday this summer, the hubs and I set out to Home Depot to grab materials to completely custom build a closet system. And my first stop was the Martha Stewart section to grab some fabric drawers. I knew those were what I wanted to use, and needed to get the measurements.
While standing there I spotted the white 6 cube shelf units on clearance, and it was like this giant light bulb went off.
Here is one similar that I found on Amazon.
We are now going to "Semi-Homemade" this closet. SCORE!
Without further details, let's see some pictures!
We built the 2 units and placed 1 sheet of 1x12 laminated shelving between them, and then one on top to create a "custom" look.
We used 1x2's for support and then simply installed closet rods in all 4 sections.
Done! We finished this in just a few hours. Painted and all! Now time to move it all back in!
It is perfect for what we needed. Just enough space for clothes, and a large shelf up top for board games!
We purchased 12 fabric bins like these:
This new system has brought so much organization to the space for such a low cost and a little bit of time!
Thanks for stopping by to see this quick but sweet closet makeover. Don't forget to follow me on

Facebook

and Pinterest, and you can find me on Instagram and Periscope @OneThriftyChick and on Twitter @JennJSheffler.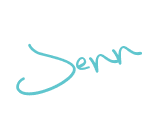 Come Join me weekly at the following Parties: